Bungalow Alloro
Two-room bungalow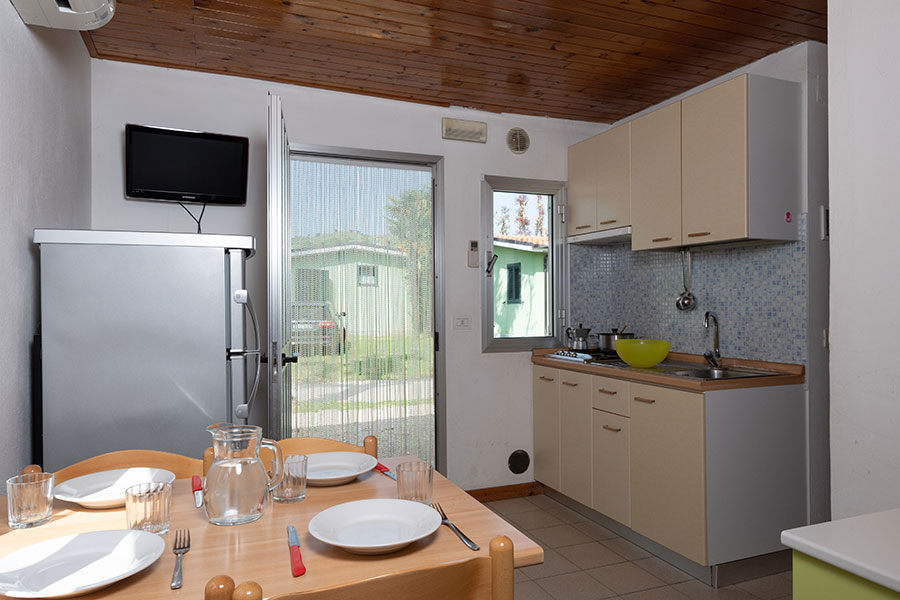 +
30 MQ
A masonry two-room bungalow of about 30 m2 that can accommodate up to 4 people. It consists of an entrance/living room, a bedroom, and a bathroom. The entrance/living room includes a kitchenette (3-burner cooker, sink, 230-litre fridge, pots and pans, and kitchenware), a TV, a table and chairs, a sofa, and a bunk bed. In the bedroom there is a double bed and a wardrobe. The bathroom includes a WC, a washbasin, a bidet, and a shower stall. Outside is a small veranda equipped with a table and chairs. The parking space is not right next to the building, but in the car park.
Services included
Beach facilities (1 beach umbrella, 1 sunbed, 1 deckchair)
Swimming pools
2 bicycles for adults
Entertainment and kids' club
First supply of bed linen (for stays of at least 1 week)
TV
Kitchenware
Big knife, *table knives, *forks, *spoons, *teaspoons, 2 wooden spoons, skimmer, ladle, corkscrew, *soup plates, *dinner plates, *glasses, *coffee cups, *milk mugs, 2 pots, 2 pans, 2 lids, dish sponge, grater, milk kettle, cutting board, jug, Italian coffee pot, colander, 2 salad bowls, ice cube tray, washbowl, cleaning bucket, dustpan, floor mop, broom, drying rack, organic waste bin, general waste bin, ashtray, cloth.
*The number varies depending on the number of people the facility can accommodate.
Parking space
1 Wi-Fi card
Utilities (hot water, electricity, gas) and VAT